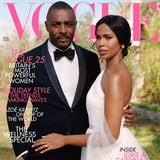 Idris Elba and Sabrina Dhowre tied the knot in a romantic Morocco wedding back in April, and now they're finally sharing the official photos from their big day. The newlyweds appeared on the cover-up of July's special bridal issue of British Vogue, where the Turn Up Charlie actor opened up about falling in love with his wife as soon as he satisfied her and why he used to think he would never marry again.
"We've been literally inseparable since we met, " he said. "You know, I'm 47 this year, been married and lived a full life before I even satisfied Sabrina. It wasn't something that I just wanted to do, get married again. But . . . "
Idris and Sabrina began dating back in 2017 before getting engaged a year later at a screening of the actor's film Yardie in London. At their wedding, Sabrina stunned in an off-the-shoulder white gown that she later traded in for an embellished lace dress with pearl and gemstone embellishments. Meanwhile, the bridegroom maintained things classic in a custom-made black suit and tie.
You can read more about their bridal day when the July issue of British Vogue reaches newsstands on June 7.
Related:
Idris Elba and Sabrina Dhowre Make One Sexy Pair During First Met Gala as a Married Couple
Read more: popsugar.com